tim kelly
connected to community
Tim grew up in Davenport's East Village after his parents moved from Mississippi to find careers at Alcoa/Arconic and John Deere. In his professional life, he worked with homeless and LGBTQ+ youth, disabled adults, and is active in a variety of faith, community and service organizations. Tim enjoys traveling, bowling, spending time with friends and family, and mentoring young community organizers and leaders.
Tim Kelly knows many proud and hard-working residents who are reluctant to ask for help. On Saturdays when he's not working with adult members of the disabled community, you can find Tim delivering food boxes to those in need. Since many don't have the means to pick up the family-sized boxes at the Davenport Community Food Pantry at the JB Young Development Center, he personally delivers nutritious protein, produce, and dairy to Scott County residents in need. If you know someone who could benefit, let us know, and we'll follow up.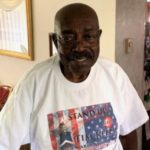 Democratic Engagement
Tim Kelly has invested much of his work and community organizing in efforts to inspire young people to take charge of their lives and their communities. In October 2020, he participated in the virtual program Vota Con Pride, hosted by St. Ambrose University's student groups Latinos Unidos and PRISM. During the panel, Tim Kelly emphasized the importance of visibility and strategies for making sure your voice is heard. He stressed the importance of managing one's time and priorities in order to organize around what matters to you most.
If you don't show up, people can walk right over you. It's something we have to do as a community.